The Virginia Tech Corporate Research Center is a vibrant community of BOLD creatives, scientists, and designers. The companies here are involved in the forward-thinking and development of future products and services conducted in our sophisticated infrastructures. We recruit the best!
When you work at the research park, you are surrounded not only by the 3,500 brightest, but the beauty and amenities of the park and area. The park provides services like food trucks, restaurant, gym, walking trails, Yoga, catch and release pond, disc golf course and more. And is the future site of the Vue, a new professional housing community.
Adjacent to the park, is Virginia Tech where companies have access to exceptional students, providing year-round workforce, that also creates a pipeline for recruitment.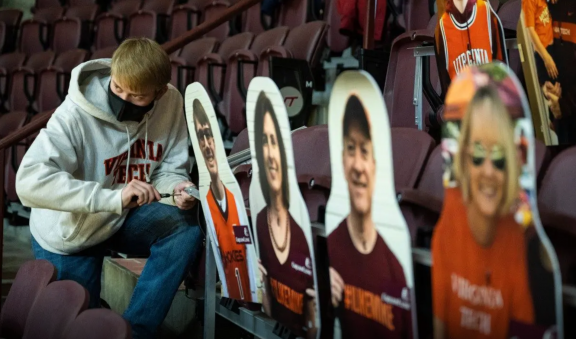 When Syracuse University's Kamilla Cardoso stepped up to the free throw line in the final 3 minutes 46 seconds of the Orange's game against the Hokies in Cassell Coliseum last month, there was quite a bit of commotion from just behind the basket. Read more
About VTCRC | Virginia Tech Corporate Research Center
The Virginia Tech Corporate Research Center is an integral part of Virginia's innovation ecosystem. Located a stone's throw from Virginia Tech, one of the nation's premier research universities, VTCRC is where bold thinkers turn big ideas into world-changing realities. VTCRC features flexible-lease wet and dry research labs, modern offices, and coworking space, all with top-tier amenities.
Nestled in the beautiful New River Valley, the VTCRC ecosystem exists alongside an affordable cost of living, high-quality education systems, and modern healthcare facilities. It's no wonder VTCRC is leading the way in biotech, autonomous tech, software, and aerospace. Because VTCRC is adjacent to Virginia Tech, companies have access to an elite talent pool of students, faculty, and staff and university resources.
What sets VTCRC apart is its commitment to collaboration as the driving force behind innovation. Entrepreneurs, startups, and seed companies who become part of the innovation ecosystem have access to a rich environment of resources to take their ideas from lab to market. From Virginia Tech's Link + License + Launch, to the Roanoke Regional Accelerator Program, to a national STEM research accelerator, VTCRC connects researchers with investors and business experts to disrupt markets and improve lives.