"Cloud computing" may be the technology buzzword of the decade. Likely you've heard of cloud providers like Amazon, Rackspace and Google. Yet there's a new breed of regional cloud provider growing rapidly within the Virginia Tech Corporate Research Center (VTCRC).
Brush Mountain Data Center (BMDC) began in 2006 as a small joint venture between Biz Net Technologies and Reconnix to offer local cloud-based services, but 2013 has been a breakout year for Brush Mountain. After being acquired by local IT service provider (and VTCRC tenant) Advanced Logic Industries, Brush Mountain has been upgrading and expanding its infrastructure, services and client list.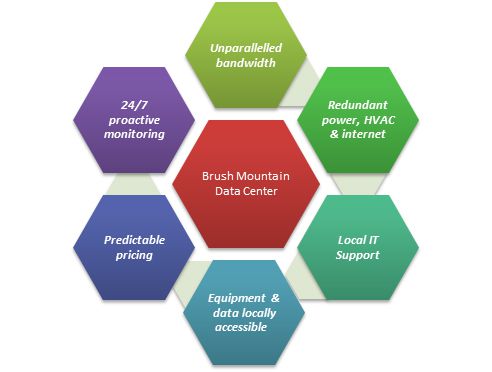 Now Brush Mountain is getting ready to add a new twist to the regional data center model with the November launch of their "FLXCloud" services. This new service provides customers a flexible data center in the cloud (including CPU, RAM and storage). Clients can allocate and re-allocate their cloud computing horsepower and enjoy the benefit of local support services – all for a predictable price. FLXCloud will be a benefit for many types of organizations, but was designed specifically for the types of software development, engineering and high-tech firms that are typically attracted to the VTCRC.
Cloud computing – delivering scalable IT from "startup" to Enterprise
To understand the potential benefits of cloud computing and data centers in plain English, let's relate it to a familiar concept: housing. Let's say we have an acre of land. We could build a single family home on that acre, or we could build a multi-story apartment complex with living space for several hundred people. The second option uses that same acre with greater efficiency and density – just like a data center.
Data centers provide flexible IT resources and options that most organizations could never cost-justify on their own, yet become attainable when they share space in a data center. There are many benefits to this approach, such as:
decreased costs

decreased power consumption

greater efficiency

scalable access to computing power

scalable and diverse IT support expertise on demand

business continuity features

redundant internet, power and HVAC

standby backup power generation
This economy of scale makes a data center and "the cloud" of data it hosts a very cost-efficient model: driving incredible new technology options for organizations of all sizes
Brush Mountain and the VTCRC: The home of high performance infrastructure
For several years Brush Mountain has offered unparalleled levels of regional high speed bandwidth powered by the VTCRC's fully redundant Gigabit Internet connectivity, (that's TWO giant Gigabit Internet pipes to make sure data stays moving) redundant cooling and standby generator service.
The combination of Brush Mountain's services in conjunction with the VTCRC facilities provides organizations the ability to move into a location with a very stable high performance network infrastructure, a secure data center with flexible computing power, and the ability to locally source some or all of their IT support needs. Not only is this computing infrastructure fast and reliable, it delivers some of the most cost-effective pricing in the market.
For organizations looking to spend less time focusing on their IT systems and more time on their core business, now is a great time to leverage the benefits of the "cloud" from a trusted local source.
Ready to learn a little more? Come see the center and meet the team
To celebrate their newly upgraded Data Center and the launch of their "FLXCloud" services, the Brush Mountain and Advanced Logic team will be hosting a ribbon cutting and Open House on December 10, 2013, from 11:30 a.m. to 1 p.m. Lunch will be provided along with an overview of Brush Mountain's offerings and tours of the Data Center.
www.brushmountaindatacenter.com
www.facebook.com/BrushMountainDataCenter
https://twitter.com/BMDataCenter
540-443-3390