At the Virginia Tech Corporate Research Center, we have been a launching pad for start-ups, early seed, established companies, and entrepreneurs with an idea since 1985. It's the experience that provides opportunities for people to thrive. As our park grows, so does our talent pool of 3,500 bold thinkers . Each day they are developing technologies and conducting research that is changing how we live and how we conduct business. So, who is to say you have to work in Silicon Valley to change the world… not us.
We serve many industries, but our top include 1) Aerospace and Defense, 2) Automotive and Transportation, 3) Biotechnology, 4) Electronics and Sensors, 5) Materials, and 6) Software. These industries offer abundant opportunities for collaborations with the 227 companies here and with Virginia Tech, adjacent to the park. While our resources and partnerships (such as NASA) are also key to the VTCRC experience, it is our community that provides the playground for companies and entrepreneurs to create 10x impact.
For us, it's all about the 3 C's, which are synonymous with our new logo as a result of a recent rebranding initiative in 2021.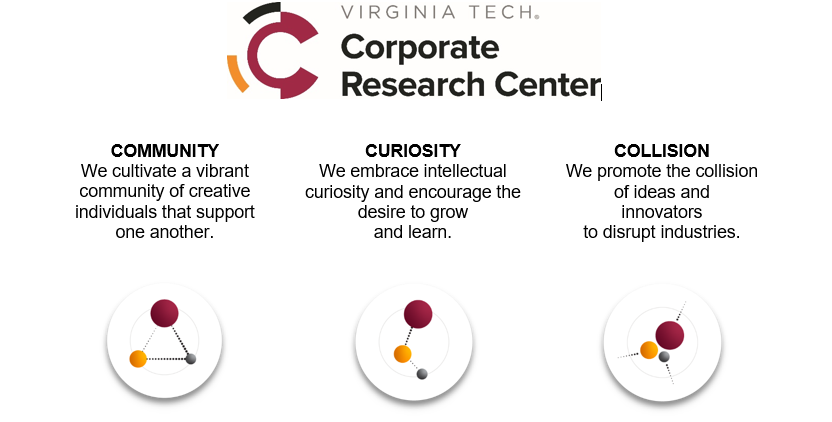 Entrepreneurs and companies of any size are welcome. We provide more than just a place to work; our space with purpose provides the platform for you to achieve.
To learn more about the research park's space with purpose, to include our COgro co-working community, visit https://vtcrc.com/about/become-a-tenant/apply.
Learn more about Tech Center Research Park, part of the Virginia Tech Corporate Research Center enterprise in Newport News, VA, visit http://innovateattechcenterva.com.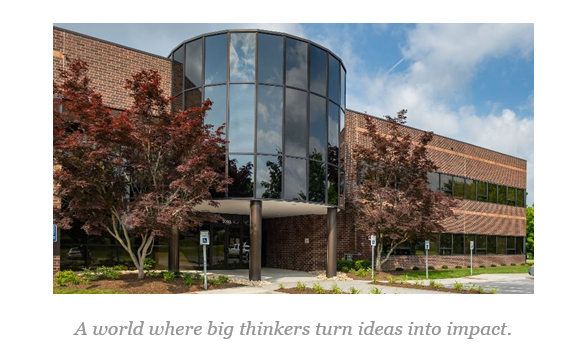 Downloads:
Monthly rate includes:
General office electric use, water, sewer, external maintenance, and housekeeping

Ample parking

Crescent and Team Conference Rooms

Spacious building lobby

About the suite:
3,826 sq. ft.

Glass entrance double doors

Open floor plan

Break room with sink

Conference room

Individual office spaces

Park perks:
Located in a HUBZone and adjacent to Virginia Tech and Montgomery Executive Airport

Priority enrollment with Rainbow Riders childcare

Restaurant, Yoga and Pilates studios, gym, trails, disc golf, additional conference rooms, Training & Event Center, and more.

Construction: The VUE apartment

Contact: Pat Morris, Real Estate Manager, information@vtcrc.com