A developer of autonomous drone technology, enabling continuous drone operation for managing remote environments without requiring human supervision.
Quick and accurate data collection is crucial. As technology has grown in leaps and bounds in recent decades, one technology is revolutionizing how we think and conduct business. Drones!
What began as an idea in 2016, Cowden Technologies is now working to advance the autonomy of drone technology. How did this idea come about?
"Drones are cool, but the longer I worked with them, I realized I spent more time setting up the drones or troubleshooting hardware issues before I could do anything productive. I have spent a lot of time changing batteries, charging batteries, and offloading data. I got tired of doing that, and I thought, 'this could be done without the person doing all the logistics,'" said founder, Mickey Cowden.
And that is what he is doing thanks to COgro… Mickey realized the benefits of being a member of COgro and the Virginia Tech Corporate Research Center community. Since he joined in 2019, he has had access to programming, resources, and partnerships that have proven beneficial to his network and growth.

Snapshot of the current state of drones in the United States:
861,036 drones registered


329,114 commercial drones registered

528,336 recreational drones registered

3,586 paper registrations


261,009 remote pilots certified

186,782 TRUST completion certificates issued by test administrators

By Federal Aviation Administration (Feb. 2022)
Opportunities and growth news
Mickey kicked off 2022 as the new president for the AUVSI Ridge and Valley chapter. AUVSI is the world's largest nonprofit organization dedicated to advancing unscrewed systems and robotics representing corporations and professionals from more than 60 countries involved in industry, government, and academia.
In his new role with the local chapter, Mickey will seek to advance uncrewed systems at the regional level and help drive publicity and awareness for the region as a resource for technical expertise. Additionally, he will seek to bring more uncrewed systems companies and jobs to the area, while working with local colleges and universities to develop educational and workforce development needs.
"Right now, our chapter has great representation from academia. Moving forward, the chapter's executive committee is going to push to increase representation from industry and government. I feel that bringing the three together and creating a balance will lead to the best outcomes for the region. I would also like to get more people engaged. We currently have around 150 members, but there is always room for more."
Cowden Technologies sees growth ahead
With the help of the Mitchell Law Firm, Cowden Technologies has converted from a VA LLC to a VA Stock Corporation.
"The main reason for this conversion was for potential future investments. The C corporation business structure is what most investors prefer, and although I am not sure what investment will look like for Cowden Technologies at this time, it is a step in the right direction. As far as my company's progress goes, I have been focusing a lot on growing the business side of Cowden Technologies. Although I had originally hoped to spend most of my time on technology development, I underestimated how much focus business development would require when going into startup mode. Right now, I would say I spend 80% of my time developing the business and 20% working on the technology."
The company's focus has been primarily in agriculture. However, thanks to the region's help, and recent experience participating in last Fall's RAMP cohort, opportunities in other verticals (such as delivery and port security) have presented themselves.
According to Globe Newswire, The Global Agriculture Drones Market size is projected to reach USD 9.89 billion by 2028, exhibiting a CAGR of 28.63% during the forecast period of 2021-2028. The agricultural drones market growth is attributed to factors such as, increasing adoption of precision farming, increase in number of investments, and availability of software solutions for data analytics and field survey.
McKinsey & Company says a number of advanced connectivity use cases have the potential to radically transform many aspects of farming by 2030.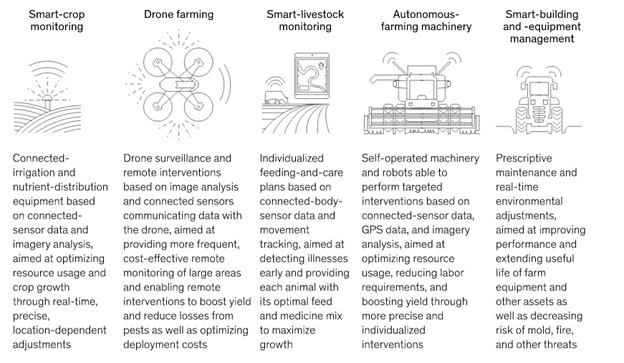 The Virginia Tech Corporate Research Center and COgro have been extremely supportive, according to Mickey.
"There are so many benefits such as company promotion, mentorship, and professional networking. I cannot say enough positive things about my experience here."
While Mickey pushes forward with developing his technology, it is entrepreneurs like him that create impact and find solutions to world problems.
We at the VTCRC are proud to have these brightest minds call us home.
Learn more…
Cowden Technologies, visit https://www.cowden.tech and follow on Facebook and LinkedIn.
In case you missed Mickey's conversation with Brett Malone, Ph.D., President & CEO of the VTCRC, click here to listen to the Start Disrupting podcast season 1, episode 15.
AUVSI Ridge and Valley chapter, visit https://auvsiridgeandvalley.org.
COgro Coworking
COgro LABS
Written by: Becca Halm
Communications Assistant