JPI develops management software for a diverse range of clientele. President Doug Garnett-Deakin took the time to share his experiences with the CRC in Blacksburg; read on to learn more about his company's journey and what it means to be a HUBZone company working in The Cloud.
I wanted to write a bit about my personal history with the Corporate Research Center. I first opened an office at the CRC in 1996 when I was a consultant with KPMG (later Bearing Point). This very humble 2 person office allowed me to work on projects around the world for the US Navy in the days before high speed cable service to homes, and remain in Blacksburg doing so while my wife finished Veterinary School. Without the resource, I don't know how I could have performed this meaningful work from Southwest Virginia.
After moving to Northern Virginia when my wife graduated, I opened an office with my new company, X.Systems, Inc., in the CRC. After a few years, I finally opened our JPI office in 2005. We have since moved and expanded and are about to double our size in the CRC this summer. The location and support provided to me in my efforts over the years have been invaluable and the CRC has been integral to all of the success I have enjoyed over these last 17 years.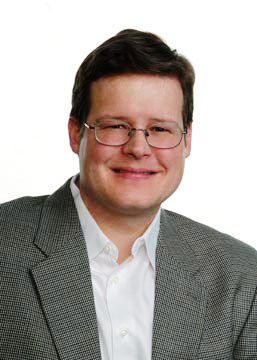 IF YOUR GRANDMOTHER WERE TO ASK WHAT YOUR COMPANY DOES, WHAT WOULD YOU TELL HER?
We use technology (the Internet) to help large government agencies manage projects all over the country. For our large clients — the General Services Administration, Department of Homeland Security, Small Business Agency, and US Coast Guard — we develop software to track budgets and delivery of services.
WHAT DIFFERENTIATES YOUR COMPANY FROM OTHERS IN THE INDUSTRY?
We develop software on open systems, in "the Cloud", that are very flexible and easy to configure for use by different organizations. Our Project Management consultants all hold some sort of well recognized certification: PMP, Lean Six Sigma, MBA, etc. We are a "Historically Underutilized Business Zone" (HUBZone) company that delivers services from a disadvantaged location for lower cost to the client, while delivering higher qualified individuals.
OF ALL YOUR COMPANY'S ACHIEVEMENTS, WHICH ARE YOU MOST PROUD OF?
Our growth as we approach 70 employees in a small consulting focused firm. Our commitment to the community: winning the Community Impact Program award a couple of years ago and sponsoring a large community service initiative. Our ability to maintain long client relationships going back over a decade.
IN BROAD TERMS, WHAT HAVE YOU THOUGHT OF YOUR EXPERIENCE IN THE CRC?
As written above, the CRC has been my partner, prior to JPI and during, for 17 years. This long term partnership has enabled me to focus on my business, growing my business and serving my clients, and not worry about office quality issues, size, etc.
Can't get enough? Read even more at www.jpidev.com.