Virginia Tech is advancing the energy sector through a landmark effort to shape the emerging hydrogen economy. Through the Virginia Tech Corporate Research Center, the university has joined a coalition of more than 60 partners across Virginia, Maryland, and Washington, D.C.
The Mid-Atlantic Hydrogen Hub project addresses demand for production of green hydrogen as a fuel while organizing a U.S. regional hub. The purpose is to meet market demand, accelerate delivery scale, drive down costs, and spur innovation in processing and deployment.
After submitting a concept paper in late 2022, the hub was one of 33 groups across the country encouraged by the U.S. Department of Energy (DOE) to submit a full application to its $8 billion Regional Clean Hydrogen Hubs program. Six to 10 regional hubs across the country will be awarded for up to $1.25 billion each. The program is set to be a central driver in helping communities across the country benefit from clean energy investments, good-paying jobs, and improved energy security.
The mid-Atlantic hub comprises a variety of organizations, including the Corporate Research Center (CRC); Connect Airlines; Connected DMV; Dominion Energy; Exelon Corp.; Montgomery (Maryland) County Government; Universal Hydrogen Co.; and WGL Holdings Inc. It is supported by more than 150 other public and private organizations across the region.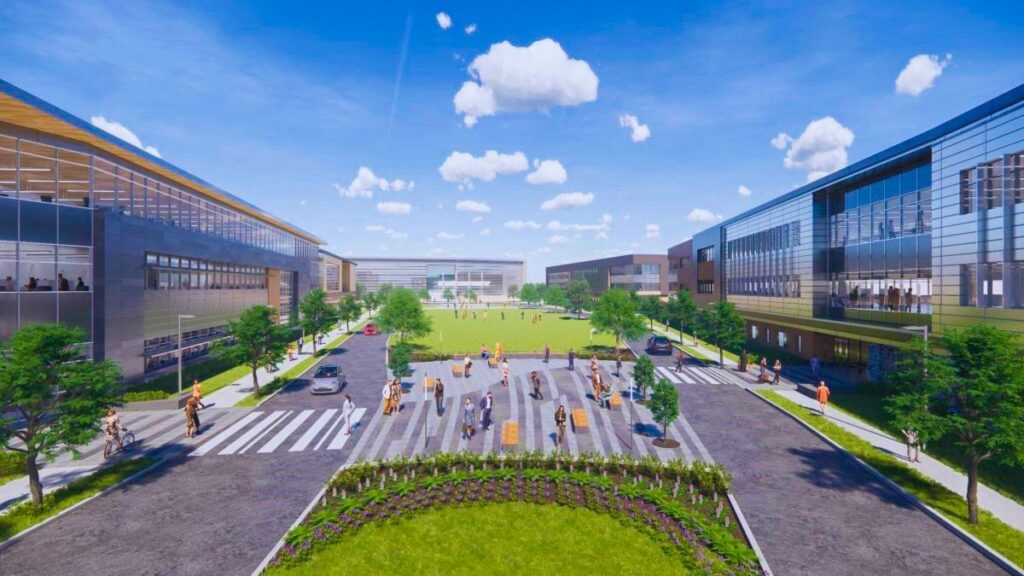 The project is expected to create approximately 8,000 jobs by 2030.
The university is engaged with the hub through the CRC; the Center for Economic and Community Engagement (CECE) and the Virginia Tech Newport News Center, both part of Outreach and International Affairs; and the College of Engineering.
"The Virginia Tech Corporate Research Center serves as an avenue to commercializing the research of the university's faculty," said Elizabeth A. McClanahan, CEO of Virginia Tech Foundation Inc., of which the CRC is a subsidiary. "In this capacity, the CRC plays several roles — test bed; advancer of science-based discovery; market strategist; and creator of partnerships between academia, the private sector, and government. The Mid-Atlantic Hydrogen Hub can help to advance the Commonwealth of Virginia as a leader of energy innovation across the nation."
As part of the wide-ranging proposal, an electrolyzer would be built at the CRC's Tech Center Research Park in Newport News to provide clean energy for the region, including the neighboring Thomas Jefferson National Accelerator Facility Lab. An electrolyzer uses electricity to split water molecules into their constituent oxygen and hydrogen atoms. According to the White House, the clean hydrogen produced by this method is essential for reducing emissions and creating jobs in manufacturing and industrial sectors. It also plays a critical role in clean energy supply chains that until now have largely been produced overseas.
Last month, Tech Center was part of a coalition that received a GO Virginia grant to build a demonstration lab for the production of green hydrogen. The Mid-Atlantic Hydrogen Hub will expand upon this project.
"Tech Center will serve as the focal point in Hampton Roads for hydrogen energy innovation and economic benefit for the region," said Brett Malone, president and CEO of the Corporate Research Center. "This collaboration is a great example of the Virginia Tech community's ability to develop effective multidisciplinary teams to contribute solutions toward large-scale, global challenges."
CECE and the Newport News Center will connect Virginia Tech faculty to the project and identify opportunities for applied research.
"We will convene community conversations across the region and develop curriculum and training opportunities for the general public, industry, and the workforce," said Mallory Tuttle, associate director of the Newport News Center.
College of Engineering faculty members Jim Egenrieder of the Center for the Enhancement of Engineering Diversity and Rohit Pandey of the Department of Mining and Minerals Engineering will help guide the curriculum and deliver training.
Pandey said initial efforts will focus on providing an overview of current or planned technologies being developed to establish a hydrogen ecosystem.
"As new technologies evolve, it is critical for engineers and scientists to be armed with the skills to accurately evaluate technical, financial, and social parameters to assess project feasibility," he said. "The planned facility at Tech Center will also provide an excellent experiential learning environment for students and professionals."
Egenrieder is developing a framework to help guide the development of a skilled workforce locally.
"We'll be able to develop job and career pathways with regional schools with hydrogen curriculum modules that can be implemented in not only the eight new Virginia high school energy courses, but also in elementary science, middle school physical science, and high school chemistry, physics, environmental science and sustainability, economics, and technology and engineering courses," Egenrieder said.
"Recognizing that today's elementary students will likely be working full time well into the 2080s and possibly live well into the next century," he added, "our curricula will also promote themes of innovation and the importance of technical skills and communication in how the Hampton Roads communities and their leaders adapt to change."