The Dominion Energy Innovation Center and the U.S. Department of Energy's Thomas Jefferson National Accelerator Facility (Jefferson Lab), in partnership with VTCRC Tech Center and NASA Langley Research Center, are proud to announce the SPARK 757 advanced energy micro-conference and innovation pitch competition. The event will take place on May 16, 2023, 9 a.m. to 7 p.m. at Jefferson Lab in Hampton Roads.
The conference will feature sessions on technology transfer market discovery, lab tours of Jefferson Lab's particle accelerator and other lab facilities, and industry panels about innovation funding, energy entrepreneurship ecosystem building, and Virginia's hydrogen economy development.
The innovation pitch competition will award $8,500 in unrestricted innovation grants to help accelerate the commercialization of advanced energy systems, including advanced nuclear and clean hydrogen. The goal of SPARK VIRGINIA is to help Virginia outpace its decarbonization goals by creating an innovation cluster that builds solutions for the entire energy economy. This will make it safer and easier to build, generate, transmit, and consume clean energy, helping to decarbonize heavy industry, long-haul transportation, and other hard-to-abate sectors.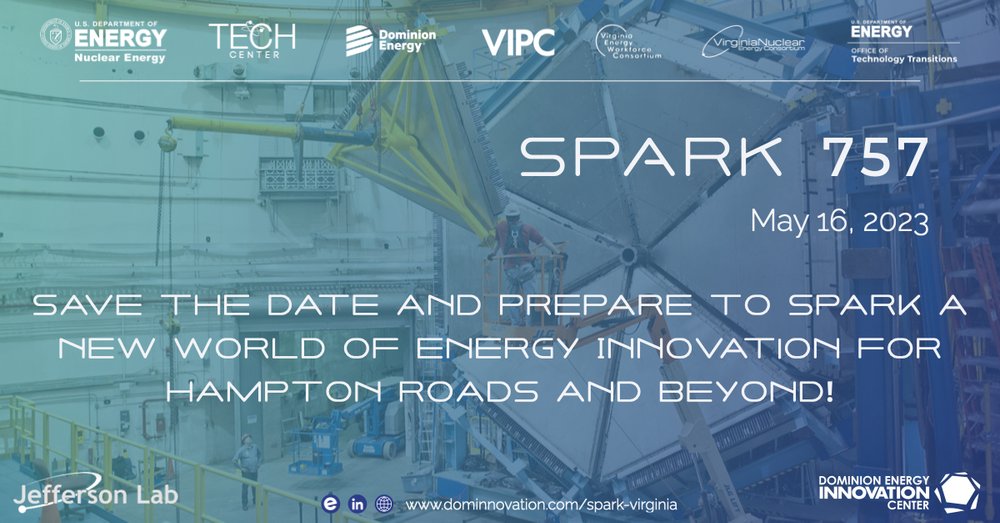 In 2022, Virginia released the "Virginia Energy Plan," which outlined the Commonwealth's embrace of nuclear and hydrogen systems as a way to provide reliable, affordable, and clean energy to all Virginians. With a commitment to achieving net-zero carbon emissions by 2050, the plan identified advanced nuclear technologies, such as small modular reactors, as a key component of the state's clean energy future. Additionally, Virginia's hydrogen hub development plan seeks to establish Virginia as a leader in the production and distribution of clean hydrogen fuel.
"SPARK 757 is a unique opportunity to bring together industry leaders, researchers, and entrepreneurs to accelerate Virginia's clean energy transition. By building an innovation ecosystem, we can create solutions that will help reduce emissions and empower entrepreneurs to move our energy economy forward," said Braden Croy, DEIC Program Director.
"Our research focuses on exploring the forces and subatomic particles within the nucleus, but the technologies and engineering systems we develop to do that work may have exciting applications outside of our lab. We are thrilled to work with Dominion Energy Innovation Center to identify paths for our technologies to advance Virginia's clean energy future. Co-hosting SPARK 757 is a great opportunity to showcase that the work we do in Hampton Roads has national and international significance," said Marla Schuchman, Chief Innovation Officer at Jefferson Lab.
"As a world-renowned research facility with deep expertise in nuclear physics and cryogenic systems, we are excited to support entrepreneurs looking to license technology and push the boundaries of engineering to provide a cleaner, more reliable grid."
"As an emerging hydrogen leader in Virginia, we are excited to partner with other industry leaders at SPARK 757," said Brett Malone of the VTCRC Tech Center. "Our recently announced plans to build a hydrogen learning lab and testbed at the Tech Center highlights our commitment to supporting entrepreneurs and innovators in the energy sector. This event will provide a unique opportunity to showcase the great work being done by our partners to accelerate Virginia's clean energy transition."
"As a leader in advanced energy systems on Earth and beyond, NASA Langley Research Center is excited to partner with other industry leaders at SPARK 757," said Michelle Ferebee, (Acting) Director of the Strategic Partnerships Office, NASA Langley Research Center. "The Administration's pursuit of advanced nuclear and hydrogen propulsion systems aligns with our vision of advancing our country's energy transition. We wish to see more technology pulled out of the lab into the market, and this event provides a unique opportunity to showcase the great work being done by our researchers and partners to advance this goal."
The event is open to anyone interested in advanced energy systems and innovation. Attendees are encouraged to register early, as space is limited.