Christopher C. Kraft Jr.
Christopher C. Kraft, Jr. graduated from Virginia Tech in 1944 with a Bachelor of Science degree in Aeronautical Science. Kraft then began working for the National Advisory Committee for Aeronautics (NACA) the predecessor organization to the National Aeronautics and Space Administration (NASA).
Kraft worked diligently in aeronautical research for over a decade before joining the Space Task Group in 1958, which was a small team that focused on putting America's first man into space. Kraft was assigned to the flight operations division and became NASA's first flight director.
Kraft was on duty for many historical space accomplishments including America's first crewed spaceflight, first crewed orbital flight, and the first spacewalk.
After several years of flight directing, Kraft retired to focus on management and mission planning at the start of the Apollo program, and in 1972 was named the director of the Johnson Space Center. Kraft officially retired from NASA in 1982, but continued his career and began consulting with numerous companies including IBM and Rockwell International, and published an autobiography entitled Flight: My Life in Mission Control.
Kraft was considered a driving force in the human space program and was also responsible for shaping NASA's organizational structure. Kraft's talent and role in NASA never went unnoticed, and at one point he was a common household name. Kraft was featured on the cover of the August 1965 issue of Times Magazine and received the National Space Trophy in 1999, and then in 2011, the Mission Control Center building was named after him.
As a Hokie, Kraft gave back to Virgina Tech in a variety of ways. In 1986, Kraft donated many of his NASA documents and flight plans to the University Library Special Collections. Kraft also donated an official moon rock, which is now displayed in Torgersen Hall.
Kraft and his remarkable accomplishments permeate through the Virginia Tech campus to this day, with his NASA documents and flight plans in Newman library, the moon rock displayed in Torgersen Hall, and of course Kraft Drive, right here at the Virginia Tech Corporate Research Center.
Links of interest: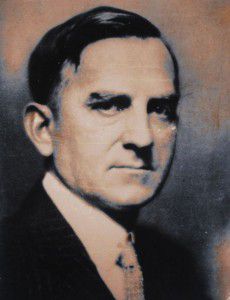 John Lee Pratt
A Virginia native, John Lee Pratt was an American industrialist who grew up on a farm in King George County. Pratt graduated from the University of Virginia with a degree in engineering in 1902, and quickly began his professional career. After starting with the DuPont Company as an engineer, Pratt was offered a job with a DuPont investment partner, General Motors Corporation, in 1919.
Pratt gladly accepted the position and worked his way up the GM ladder and became the Vice President of GM in 1922 and is credited for the idea of holding, instead of selling off. From 1923 to 1968, Pratt was part of the GM executive committee, and served on the company's Board of Directors.
As Pratt's career continued, he entered public service and began serving the United States. Prior to World War II, Pratt was appointed by President Franklin D. Roosevelt to serve on the War Resources Board, and later he became a member of the Lend Lease Administration.
On top of Pratt's successful business endeavors, he maintained his passion for agriculture through adulthood and raised his own cows. In 1944, one of Pratt's cows fell ill, and he brought it to Virginia Tech for vet services. After discussing with Harold Young, the director of the Virginia Agricultural Experiment Station, Pratt realized the importance of understanding animal nutrition. After this discussion, Pratt made his first contribution to Virginia Tech. First, he donated $100,000 to the Department of Biochemistry and Nutrition, and shortly donated another $150,000 to support the department's research.
Throughout his life, Pratt was known for his quiet generosity. In addition to the money donated to the VMFA Fellowship Program and Tech's Biochemistry and Nutrition Department, he and his wife donated millions of dollars to numerous universities, research centers, and charity organizations.
Upon Pratt's death in 1975, he and his wife donated nearly $11 million to Virginia Tech, which was split amongst Pratt's two passions: engineering and agriculture.
Currently Virginia Tech offers three scholarship opportunities dedicated to John Lee Pratt, including the John Lee Pratt Merit Scholarship, the John Lee Pratt Animal Nutrition Senior Research Scholarship Program, and the John Lee Pratt Graduate Scholar Program.
Decades after Pratt's death, his compassion for education and immense generosity continue to support essential university research and opportunities for students, faculty, and staff. To this day, both the monetary value and impact of Pratt's overwhelming contributions continue to grow and support the agriculture and engineering programs at Virginia Tech.
Pratt Drive at the Virginia Tech Corporate Research Center is one of many ways Pratt's contributions are remembered at the university today.
Links of interest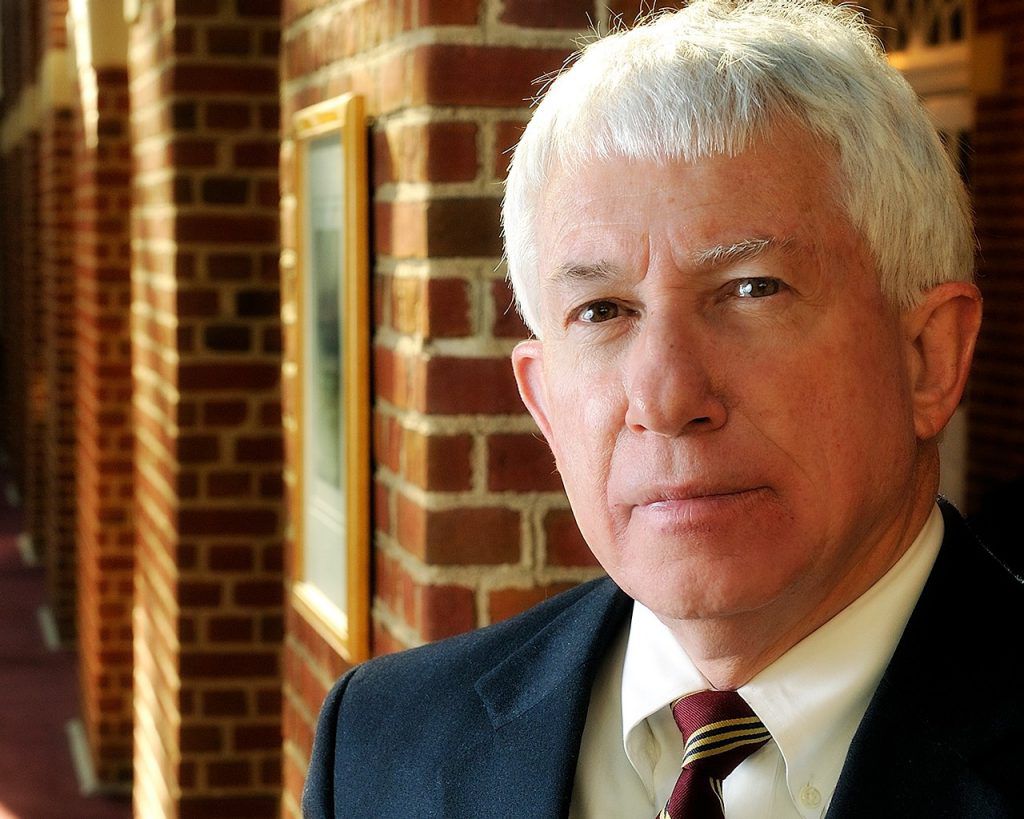 Raymond Smoot, Jr., Ph.D.
Smoot Drive was renamed, June 5, 2018, after the reconfiguration of the Southgate entrance to campus, which was reworked from a stoplight intersection with U.S. 460 into a full exit and entrance, with access both to the Corporate Research Center and to the main campus.
Over the course of Smoot's 35 years with the Virginia Tech Foundation, the university grew significantly in size, scope, and influence. When Smoot was first hired as a part-time employee by the Virginia Tech Foundation in 1977, the endowment stood at about $4 million and total assets were about $11 million. When he retired in 2012, the foundation was a solid and expansive enterprise, with an endowment of nearly $600 million and assets valued at more than $1.21 billion.
No single person is solely responsible for the university's major capital projects, but Smoot was the driving force behind an amazing number of them during his more-than-four-decade career at the foundation. Smoot built a reputation as the fix-it executive at Virginia Tech.
Smoot's dual roles at the Virginia Tech Foundation and as a board member at Carilion Clinic put him in position to play a key role in the partnership that led to the Virginia Tech Carilion School of Medicine and Research Institute.
Smoot joins Frank Beamer as the second member of the Class of 1969 to have a street on campus named for him.
Smoot majored in English and obtained his master's degree in education. He went on to earn a Ph.D. from Ohio State University, which marked the only time he left Virginia Tech for any length of time.
Smoot was one of the key players in the creation of the Virginia Tech Corporate Research Center (VTCRC). He remembered regularly visiting the property's previous owner, who used it to run cattle, and talking about its potential for a research park.
In the early 1980s, Smoot played a key role in the transfer of public radio station WVTF from Virginia Western Community College to Virginia Tech. The transfer marked Tech's first substantive engagement in Roanoke. If WVTF was a foot in the door, then Smoot pushed that door open wide by guiding Virginia Tech through an extensive process to partner with the city of Roanoke to restore the Hotel Roanoke and build a new, adjoining conference center. Virginia Tech's intervention saved an icon of downtown Roanoke at a pivotal moment in the city's history, paving the way for the downtown reinvention that has transformed the Star City over the past decade.
Smoot again played dealmaker in guiding the vision developed by the late Virginia Tech President Emeritus Charles Steger and the late Ed Murphy, former CEO of Carilion Clinic, to establish a medical school and affiliated research center in Roanoke. As an administrator with the Virginia Tech Foundation and board member at Carilion, Smoot bridged the gap between the two entities and therefore played a crucial role in implementing that vision into the Virginia Tech Carilion School of Medicine and Research Institute, which has literally changed the Roanoke skyline.
Smoot's legacy extends well beyond the Star City. After controversy struck the athletic department in the mid-1980s, Smoot became interim athletic director and made key hires that charged the course for athletics' future success.
Though much of his legacy involved projects at satellite facilities, Smoot planned for the future and pushed for the acquisition of hundreds of acres adjoining the university. Small purchases were followed by larger ones, culminating in the combined gift and purchase of the Heth farm west of the U.S. 460 bypass in July 2001. With so many acres on which to expand, the university's orderly growth will be possible for generations.
Smoot was also important in bolstering Virginia Tech's presence in Northern Virginia. Working with now retired Virginia Tech National Capital Region Operations Vice President Jim Bohland, Smoot negotiated a complex deal with a local developer. They not only completed the Virginia Tech Research Center – Arlington, but did it for $13.4 million less than budgeted. Today, the center is a powerful symbol of the important role Virginia Tech plays throughout the commonwealth.
Some of Smoot's other accomplishments include
The complicated acquisition of a centuries-old property in Switzerland to support Virginia Tech's education-abroad programs.

Development of University Mall with alumni Bill Ellenbogen and Bill Sterrett.

Oversight of the Smith's Landing project on foundation property in conjunction with alumnus Bruce Smith.

The gift/purchase of the golf course now known as the Pete Dye River Course of Virginia Tech.

Creation of the SEED and BASIS funds that enable students to engage in real-life stock or bond trading.

The Turner Street mixed-use project houses important university administrative offices and the parking garage to support the Moss Center for the Arts.
The Virginia Tech Corporate Research Center is proud to have Smoot Drive run through the research park and honored to have him as an advocate for research and innovation.
Link of interest