As co-spaces have become more popular, yes… even during COVID times, with those looking to change how we live, how we work, and how we think, the research park is providing #SpaceWithPurpose within a community bursting with resources.
COgro is a community in its own right, within the campus of the Virginia Tech Corporate Research Center. What makes the co-space experience so unique? What we are doing is listening to entrepreneurs and providing the resources and partnership opportunities specific to your needs.
Each company that enters is at a different stage in its work from funding exploration, filing a patent, or conducting scientific research to solve a problem. Being around other entrepreneurs in an environment specifically designed to support them is an invaluable part of company growth.
Join our culture of winning and take the next step alongside other bold thinkers. See you at COgro.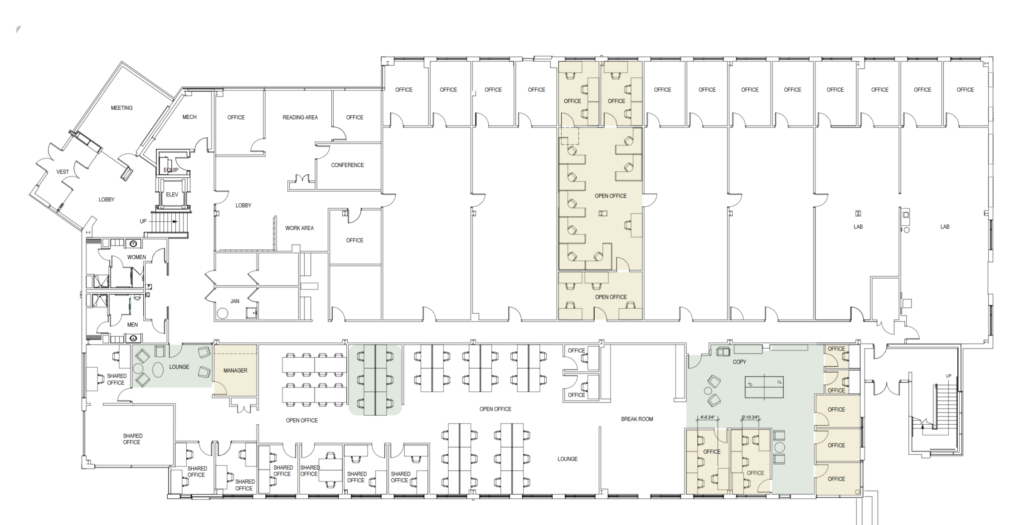 COgro Amenities and Member Perks
Amenities: COgro offers a flexible workspace with many amenities such as free parking, Wi-Fi, conference rooms, daily snacks, unlimited coffee/tea, access to copier, recreation areas, priority enrollment for childcare services through partnership with Rainbow Riders Childcare Center, and all amenities and benefits employees of the research park receive such as discounts with area businesses.
Furnishings: Depending on the membership option, all spaces come furnished with comfortable chairs and seated desks to suit your needs. Soft seating and gathering options are scattered throughout COgro for those collaboration encounters. All the resources you need are here – just bring your computer and get started!
Exclusive: COgro has designed an exclusive benefits services package like no other to provide all members with the opportunity to thrive, grow and collaborate. From complimentary 1-hour consultations in accounting, marketing, to business growth and legal. (Request a mentor chat.)
Host your event: Members can host evening or weekend company socials, educational and networking events. Whether it is a celebration, a company meeting, hosting an event or workshop or even teaching a class, your membership gives you access to our space and conference rooms. If you are an outside organization wishing to inquire about event space, please email COgro@vtcrc.com.