Uncork-it, Inc., is a full-service advertising and marketing communications agency that provides clients with the plans and tools they need to position their business for success: branding, ads, radio spots, websites, social media, content marketing—even skywriting. Uncork-it's team has expertise working with many different industries, including technology, education, and medicine.
"We like to say we help our clients build their winning hand, with the right mix of ads, content marketing, public relations, social media, and more," said Eileen Baumann, president of Uncork-it.
In addition to building complete marketing strategies, Uncork-it's team also writes and designs websites, videos, and a range of publications including magazines, brochures, and annual reports.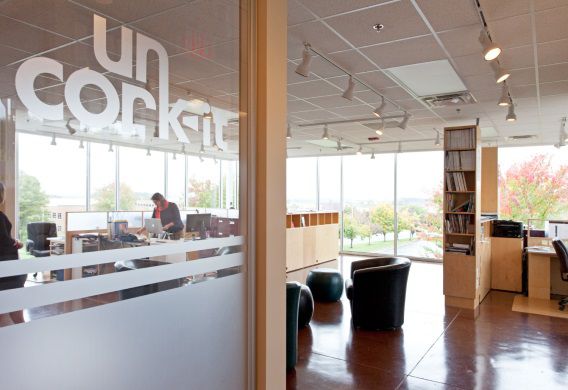 Uncork-it was first established in 1985 under the name The Right Word, before changing its name in 2009.
Baumann says Uncork-it is pleased with the design, publication, and communication awards the agency has earned, but she is most proud of how Uncork-it has grown. "We went from a team of two in 2009 to a team of 11 today," she said. "We've had three new team members join us this year, and we are thrilled at how they are contributing and helping us sharpen our edge. We have boosted our effectiveness to an even higher level."
They are currently working on several exciting projects, one of which includes bringing augmented reality to a trade show in Philadelphia. Visitors will interact with the display to play a game — using a tablet or smart phone. Uncork-it is also developing a user interface for a hospital system in the Southwest, which will alleviate barriers to communication between doctors in different practices and healthcare systems and with patients. "This medical communications platform has some very interesting new twists that we think will go a long way to helping improve the health of the entire community," Baumann said.
Uncork-it has also teamed up with Evernaut, another company in the Virginia Tech Corporate Research Center (VTCRC), to help introduce tablet menus to restaurants—a new marketing channel, according to Baumann. "The beta testing at two local restaurants has been very encouraging, and we're excited about the opportunities this opens for our clients, and the entire local business community."
The marketing communications company moved to the VTCRC in March 2014 to be closer to its clients, but also because of the high quality of space available. "The VTCRC team worked with us to help us design and build the perfect office space," Baumann said. "We all love working here. We have the perfect views for creative work—an ideal mix of nature and human activity."
A bonus for Uncork-it was the VTCRC's attentiveness to maintenance. "We were tired of spending so much effort just keeping things going," Baumann said. "Contacting the landlord or the contractors when things went wrong in our old space was very time consuming. At the VTCRC, any maintenance request is quickly resolved and we are impressed with every contractor we've met," she said.
Learn more about Uncork-it at www.uncork-it.com.
1971 Kraft Drive, Suite 2600
Blacksburg, VA 24060