Recently on a chilly afternoon in November, government officials got a sneak peek at Blacksburg's newest life sciences infrastructure: VTCRC's COgro Labs. This brand-new shared lab space, set to open in early 2023, was the result of strong regional collaboration and a GO Virginia grant.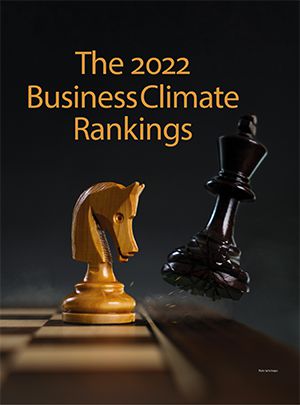 VTCRC's President & CEO Brett Malone said, "COgro Labs is poised to fill the national demand in biotechnology for space and commercialization support. It's a hub for innovation and on the forefront of world-changing new biotech businesses."
This is just one example of why Virginia outranked rivals Georgia and North Carolina to be named the #1 in the best business climate by Site Selection Magazine in November. Site Selectors' top 5 criteria included workforce skills, state and local taxes, workforce development, transportation infrastructure, and ease of permitting.
Virginia Gov. Glenn Youngkin has been vocal about his priorities in making Virginia a desirable location for business and industry and is bringing his experience as a business leader to the effort. "Companies make location decisions not for one or two or three years, but for 30 or 40 or 50 years, if not longer," he said. "They have to have confidence that they are in an environment that will provide them long-term stability, a long-term partnership. Step one for me is to make sure we are putting in place frameworks around a tax-friendly world, a business-friendly regulatory environment, an education system that supports the development of the best workforce, safe communities, and finally a set of principles about how government is run so that it works for efficiency. We've been working on all those fronts."
According to Site Selection Magazine, Gov. Youngkin is focused on long-term stability, business-friendly policies, and economic development partnerships. He recently unveiled the 2022 Virginia Energy Plan which aims to make Virginia the world's leading nuclear innovation hub. In addition, he's dedicated to nurturing and retaining a world-class workforce by creating attractive opportunities for students and veterans.
The forward-thinking community in Roanoke and Blacksburg are a big piece of the momentum that's found statewide with the opening of both COgro Labs and bigger infrastructure projects on the horizon.
Back in Blacksburg and Roanoke, the confidence is palpable. Roanoke City Director of Economic Development Marc Nelson agrees. "With their strong, statewide partnerships, stellar educational pipeline, and affordability in terms of business and cost-of-living, Roanoke and Blacksburg are truly ideal environments for companies to thrive," he said.
COgro Labs is the first in a long list of current projects aimed at nurturing the innovation ecosystem in the Roanoke-Blacksburg region. From low cost of living, proximity to 25 higher education institutions, and access to rail, highways, and ports, The Roanoke and New River Valleys have long been a great place to start or relocate a business. Now, a cross-regional coalition is working to make the area even more friendly to life science startups and businesses.
"Incubators, accelerators, and affordable lab space really drive success in the biotech industry," said Verge President and RBTC Executive Director Erin Burcham. "We have an environment that doesn't exist anywhere else. It's unique to the assets of the region and offers innovation powerhouses like Fralin Biomedical Research Institute, Virginia Tech Carilion School of Medicine, Virginia Western Community College, and Radford, just to name a few."